October, 2021
10/19
AIAM Legislative Day – Special Opportunity for AIAM Members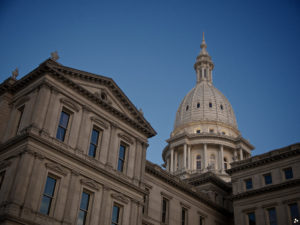 Please join the AIAM board and other members in Lansing at the capitol building inside the Speaker's Library as companies exhibit and meet with state lawmakers.  This historic room is situated on the 2nd floor directly between the Senate and House chambers enabling legislators and their staff to visit with AIAM members throughout the day.
In addition to time in the Speaker's Library preschedule sessions to facilitate business introductions will be set up at various intervals during the day for AIAM members to meet with legislators in their private office.  These in-person sessions are extremely important so our elected officials can hear directly from you to better understand your company's products and services along with the challenges businesses face and the opportunities in Michigan's aerospace industry.
Schedule for the Day
9:00 AM – 2:00 PM:
Company exhibits open for visits by Senate and House representatives & AIAM members
10:00 AM – 2:00 PM:
AIAM member meetings with Senate & House representatives
11:30 AM – 1:00 PM:
Lunch provided
2:30 PM – 3:00 PM:
Wrap up and closing remarks
Attire:
Business & weather-appropriate as a portion of the agenda will include short walks (1-2 blocks) to the House and Senate offices.
AIAM needs to show up strong
so our collective voice can be heard in Lansing!  We need everyone to participate and help inform lawmakers on how much the aerospace industry contributes to Michigan's economy and means to our future.
Contact
chelseav@mrgmi.com
for the members-only registration link and to be included in the prescheduled meetings.
Space is limited 
Sponsored by:

March, 2022
03/17
Aerospace Industry Technology Expo

Note: AIAM Members should contact chelseav@mrgmi.com for the members-only registration link.
The 2022 AIAM Tech Expo is your opportunity to meet the companies leading the aerospace industry in technological advancements! Want to learn about new technology? Interested in products and services being offered by top companies in the aerospace industry? Looking for a career in aerospace? Want to make connections with employees of Michigan's most successful aerospace companies?
You don't want to miss this event!
Click here to view exhibitor information and click here to view sponsorship information.
Thank you to our Sponsor:

Register
August, 2022
08/08
Annual Golf Outing

More details to be announced…