AIAM Aerospace Industry Luncheon attendees share leading news and trends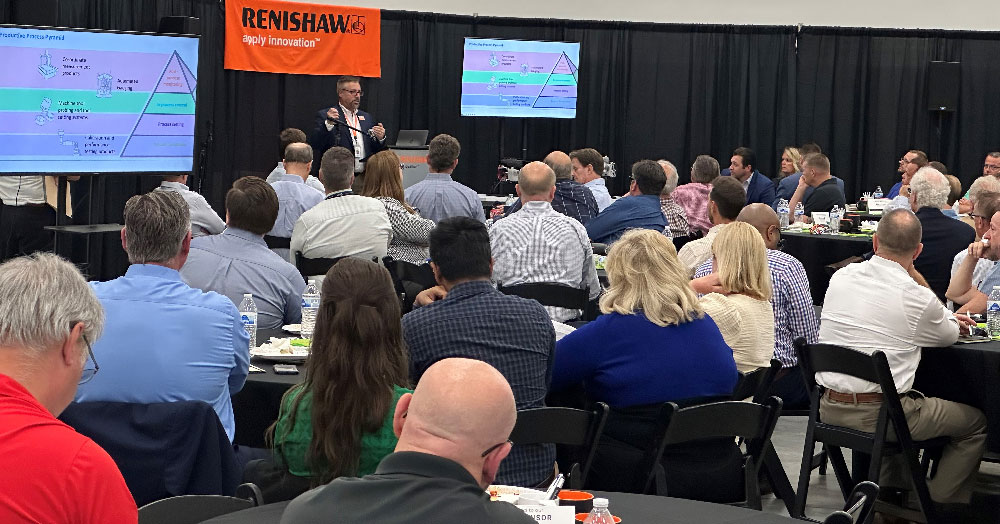 AUBURN HILLS, Mich. (June 21, 2023) Aerospace Industry Association of Michigan (AIAM) recently held an Aerospace Industry Luncheon at the Michigan Technical Center of Renishaw, a global high-precision metrology and additive manufacturing technology group. One of the organization's most popular events, the luncheon drew 135 attendees from a wide array of industry suppliers, manufacturers, and contractors. Participants networked with other aerospace executives while learning about the most recent aerospace news, trends, and information.
"AIAM's luncheons offer an exceptional opportunity for industry experts and suppliers to forge new relationships with other aerospace companies," says AIAM President Tony Vernaci. "We were thrilled with the caliber of attendees and the expertise they shared."
Luncheon speakers included Mike Stengel, AeroDynamic Advisory, who provided an outlook on commercial, defense, and private aerospace; Tom Burrell and Kyle Bailey of MI-GSO|PCUBED who discussed solutions for challenges in today's supply chain; Dan Skulan, General Manager of Industrial Metrology Group at Renishaw who presented on the company's value proposition for manufacturers; and Sean Hilbert of Cobra AERO who illuminated how his company utilizes Renishaw's products, technology and services throughout their manufacturing process.
On Sept. 5–7, 2023 AIAM will host its second annual AeroOne Conference at the Detroit Marriott – Renaissance Center, in downtown Detroit. AeroOne aims to build a strong foundation for Michigan's aerospace industry by bringing together primes such as Boeing, Airbus, multiple leading tier ones, and industry leaders from across the globe. AIAM expects to draw more than 400 attendees representing 200 companies, from dozens of states and multiple countries.
To learn more about the summit or to register, visit www.aerooneconference.com.