Special Announcement: AIAM Foundation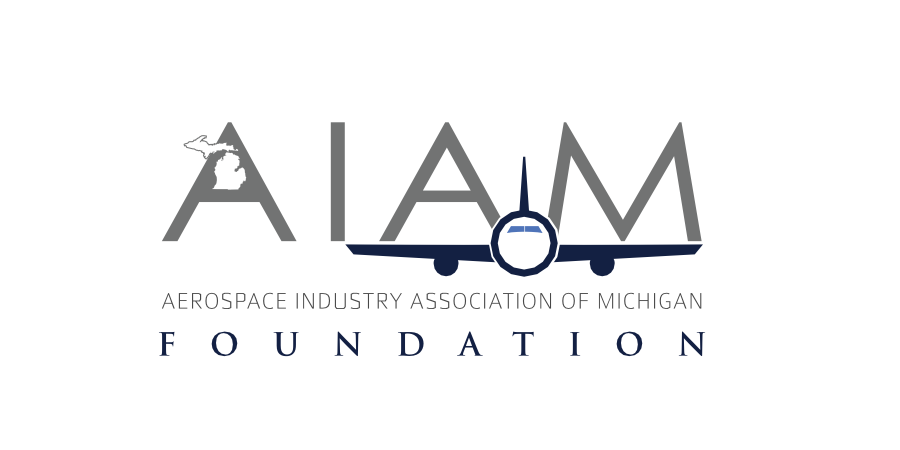 Introduction
The Aerospace Industry Association of Michigan (AIAM) was established as a response to the increasing need to connect, engage, and advocate for the aerospace industry in Michigan.
The industry continues to have significant potential for growth, which could be hugely impactful for Michigan's economy and a diversification strategy for companies in the state. That is why earlier this year the AIAM board of directors authorized the establishment of a nonprofit charitable foundation to raise funding to support expanded programming. Objectives will include creating a diverse pipeline of talent, beginning with K-12 education systems all the way through postsecondary; bolstering small, under-resourced companies to better compete as a supplier in the industry; and raising awareness of the importance and impact of the aerospace industry in Michigan.
The AIAM Foundation will strengthen the aerospace industry – and with it, the state's entire economy – by advancing people, companies, and existing resources in our communities. We are well positioned to be a driver of progress and prosperity for the people of Michigan.
Growing this industry is needed for several reasons. First, Michigan-based suppliers will increasingly have capacity to be filled, as a result of the inevitable changes facing the state's automotive industry. With the rising popularity of electric vehicles, the dependence on automotive manufacturing will drastically shift, negatively impacting the supply base in the primary industry on which Michigan has spent more than a century relying.
The Impact
Talent Development and Pipeline
A major objective of the AIAM Foundation will include engagement with K-12 schools and postsecondary institutions to 1.) raise awareness of the aerospace industry and the wealth of opportunities it offers within Michigan; 2.) provide opportunities to expose youth to the industry through field trips, internships/apprenticeships, and other exciting, hands-on activities; and 3.) create affinity groups for young people interested in aerospace that meet regularly and engage in activities, education, competitions, and more. The objective will be to teach, inform, and inspire students, while enabling them to connect to opportunities for skill development that can lead to certificate/degree attainment.
Another component to this includes engagement with adults seeking to "up-skill" their current line of work or start a new career all together. The AIAM Foundation would conduct outreach, education, and workshops to support adults in these efforts. This will include connecting individuals to vocational programs, or building specific apprenticeship opportunities for adults in companies throughout the state.
Central to this strategy will be the intentional engagement with girls/women, people of color, and other individuals who have traditionally been underrepresented in the aerospace industry. The AIAM Foundation will also target communities that have been under-resourced as a strategy to build educational and employment opportunities in that area, which could lead to increased economic mobility overall.
The AIAM Foundation would also support these efforts through scholarship opportunities for certificate/degree programs, school-based competitions, summer camps, afterschool programs, and more.
Small Business Support for Suppliers
A significant component of the aerospace ecosystem in Michigan is suppliers – the companies that manufacture and produce the parts needed to build flight vehicles. The industry ecosystem also includes the necessary support systems, such as companies that develop software, provide engineering/testing services, build critical tooling, and implement automation solutions.
However, there is a lot of regulation and complexity involved in becoming certified in these types of businesses. For companies with limited resources in areas with little support for small business growth, the AIAM Foundation will provide technical assistance and capacity building to increase these companies' readiness to be successful. Another objective of this would be to create stronger networks for businesses so that they have greater access to buyers and participate more competitively. Again, an intentional strategy will be to connect with companies owned by women, people of color, or those located in under-resourced communities to create access and opportunity for those who have historically been excluded from the industry.
Your Support is Needed
By establishing a charitable foundation, AIAM will have an effective means of raising the resources necessary to make a greater impact. The existing membership structure of the organization does not provide sufficient fundraising needed to implement programming around talent development, supplier support, and community collaboration. The AIAM Foundation will be able to grow and support the aerospace industry in Michigan in ways that AIAM cannot.
We are at an important point in Michigan's history where we must shore up our economy with an industry that is primed to flourish for generations to come. The AIAM Foundation is positioned to do just that by promoting aerospace opportunities for populations, businesses, and communities that otherwise may not have access to them.
Your support is needed to make this effort a success. We are building – from the ground up – an initiative that is poised to strengthen a strategic industry in Michigan, which in turn will drive opportunity and prosperity across the state.
We would be forever grateful if you and your companies would consider becoming foundation partners! More information and ways to support the foundation will be announced in the coming weeks.